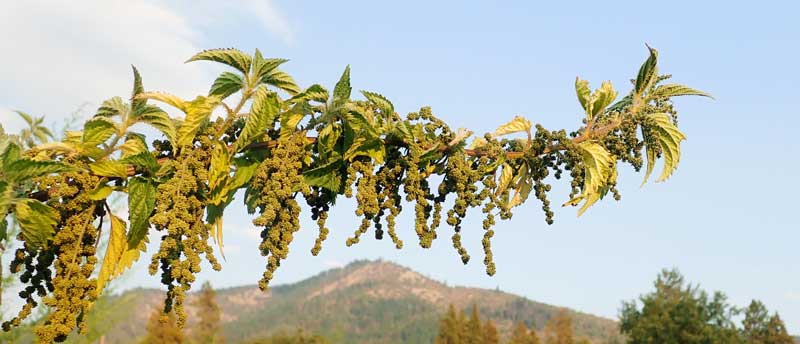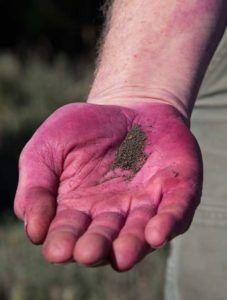 Granted that careful planting of a small packet of seeds sometimes gives more results than a haphazard planting of a much greater number of the same seeds, yet still, it is nice to have access to larger quantities of seeds. Often labor and materials may be minimized and plant happiness maximized by planting directly in the garden or field, and this requires more seeds than when one uses a more controlled greenhouse technique. Also, those of you planning commercial grows in larger greenhouses need more seed.
When I started making larger lots of seeds available for general distribution, I wanted to provide the kind of service that I needed 30 years ago when I started wholesale planting of medicinal herbs. It was hard to find, for instance, marshmallow seeds, no less top quality certified organic marshmallow seeds in bulk. I am excited to now be able to provide this service! As a seed planter, I find it to be very useful to know both the weight of the seed I'm using as well as the seed count, so have provided this information, which should make it easier to plan your purchase.
In order to assist our seed planting friends, here is a handy reference. These are average seed counts per gram weight that have been compiled over the last 30 years by seedsman/herbalist Richard A (Richo) Cech.
Click here to download/print the list for your reference.
| | | |
| --- | --- | --- |
| Latin Name | Common Name | Av. Seeds Per Gram |
| Abelmoschus esculentus | Okra | 19 seeds per gram |
| Achillea millefolium | Mountain Yarrow | 6,000 seeds per gram |
| Acmella oleracea | Spilanthes | 3,000 seeds per gram |
| Aconitum carmichaeli | Chinese Aconite | 360 seeds per gram |
| Aconitum napellus | Monkshood Aconite | 330 seeds per gram |
| Acorus calamus | Calamus | 190 seeds per gram |
| Adonis vernalis | Adonis | 65 seeds per gram |
| Aesculus hippocastanum | Horse Chestnut | 62 seeds per kilogram |
| Agastache foeniculum | Licorice Mint | 2,800 seeds per gram |
| Agastache rugosa | Korean Mint | 2,500 seeds per gram |
| Agrimonia eupatoria | Agrimony | 60 seeds per gram |
| Ajuga reptans | Bugle | 700 seeds per gram |
| Alcea rosea | Hollyhock | 95 seeds per gram |
| Alchemilla vulgaris | Lady's Mantle | 2,700 seeds per gram |
| Aletris farinosa | True Unicorn | 24,000 seeds per gram |
| Alkanna orientalis | Oriental Alkanet | 220 seeds per gram |
| Alkanna tinctoria | True Alkanet | 250 seeds per gram |
| Allium cepa | Garden Onion | 325 seeds per gram |
| Allium fistulosum | Welsh Onion | 430 seeds per gram |
| Allium porrum | Leek | 370 seeds per gram |
| Allium schoenoprasum | English Chives | 700 seeds per gram |
| Allium tuberosum | Garlic Chives | 215 seeds per gram |
| Allium ursinum | Bear's Garlic | 130 seeds per gram |
| Aloe arborescens | Krantz Aloe | 800 seeds per gram |
| Aloe ferox | Cape Aloe | 360 seeds per gram |
| Althaea officinalis | Marshmallow | 300 seeds per gram |
| Amaranthus cruentus | Amaranth | 1,200 seeds per gram |
| Ammi visnaga | Khella | 1400 seeds per gram |
| Amomum subulatum | Black Cardamom (Yi-zhi-ren) | 70 seeds per gram |
| Anaphalis margaritacea | Pearly Everlasting | 20,000 seeds per gram |
| Anchusa azurea | Azure Anchusa | 40 seeds per gram |
| Anchusa officinalis | Common Bugloss | 200 seeds per gram |
| Andrographis paniculata | Andrographis (Kalmegh) | 600 seeds per gram |
| Anemone pulsatilla (P. vulgaris) | Pulsatilla | 400 seeds per gram |
| Anemopsis californica | Yerba Mansa | 3,000 seeds per gram |
| Anethum graveolens | Dill | 600 seeds per gram |
| Angelica archangelica | Official Angelica | 200 seeds per gram |
| Angelica dahurica | Chinese Angelica (Bai-zhi) | 250 seeds per gram |
| Angelica keiskei koidzumi | Ashitaba | 100 seeds per gram |
| Angelica sinensis | Dang-gui | 300seeds per gram |
| Anthemis sancti-johannis | Saint John's Chamomile | 1,200 seeds per gram |
| Anthemis tinctoria | Dyer's Chamomile | 1,500 seeds per gram |
| Anthoxanthum odoratum | Sweet Vernal Grass | 1,600 seeds per gram |
| Anthriscus cerefolium | Chervil | 600 seeds per gram |
| Anthyllis vulneraria | Kidney Vetch | 310 seeds per gram |
| Apium graveolens | Celery | 2,000 seeds per gram |
| Apocynum cannibinum | Indian Hemp | 760 seeds per gram |
| Aralia californica | Western Spikenard | 600 seeds per gram |
| Aralia chinensis | Chinese Angelica Tree | 800 seeds per gram |
| Aralia cordata | Udo | 1,200 seeds per gram |
| Aralia racemosa | Eastern Spikenard | 900 seeds per gram |
| Aralia spinosa | Spiny Aralia | 330 seeds per gram |
| Arctium lappa | Burdock, gobo | 105 seeds per gram |
| Arctostaphylos uva-ursi | Bearberry | 80 seeds per gram |
| Arctostaphylos viscida | Whiteleaf Manzanita | 40 seeds per gram |
| Arisaema triphyllum | Jack-in-the-Pulpit | 20 seeds per gram |
| Aristolochia serpentaria | Virginia Snakeroot | 120 seeds per gram |
| Arnica chamissonis | Meadow Arnica | 2,000 seeds per gram |
| Arnica montana | Mountain Arnica | 700 seeds per gram |
| Artemisia absinthium | Absinthe Wormwood | 14,000 seeds per gram |
| Artemisia annua | Sweet Annie | 17,000 seeds per gram |
| Artemisia dracunculus | Russian Tarragon | 4,800 seeds per gram |
| Artemisia ludoviciana | Western Mugwort | 8,000 seeds per gram |
| Artemisia princeps | Yomogi | 16,000 seeds per gram |
| Artemisia scoparia | Redstem Wormwood | 26,000 seeds per gram |
| Artemisia tridentata | Sagebrush | 5,500 seeds per gram |
| Artemisia vulgaris | Common Mugwort | 14,000 seeds per gram |
| Asarum caudatum | Western Wild Ginger | 155 seeds per gram |
| Asclepias spp. | Milkweed | 200 seeds per gram |
| Asparagus officinalis | Garden Asparagus | 50 seeds per gram |
| Asparagus racemosus | Shatavari | 31 seeds per gram |
| Asphodelus spp. | Asphodel | 60 seeds per gram |
| Aster oblongifolius | Aromatic Aster | 4,000 seeds per gram |
| Aster tataricus | Tartarian Aster (Zi-wan) | 800 seeds per gram |
| Astragalus membranaceus | Astragalus (Huang-qi) | 250 seeds per gram |
| Atractylodes macrocephala | Atractylodes (Bai-zhu) | 30 seeds per gram |
| Atriplex hortensis | Orach | 250 seeds per gram |
| Atropa belladonna | Belladonna | 950 seeds per gram |
| Avena sativa | Oats | 36 seeds per gram |
| Bacopa monnieri | Brahmi | 18,000 seeds per gram |
| Balsamorhiza sagittata | Balsam Root | 110 seeds per gram |
| Baptisia tinctoria | Wild Indigo | 190 seeds per gram |
| Barbarea verna | Creasy Greens | 300 seeds per gram |
| Belamcanda chinensis | Leopard Flower (She-gan) | 55 seeds per gram |
| Bellis perennis | Common Daisy | 8,000 seeds per gram |
| Benincasa hispida | Wax Gourd | 10 seeds per gram |
| Beta vulgaris | Beet | 70 seeds per gram |
| Bixa orellana | Annatto | 40 seeds per gram |
| Borago officinalis | Borage | 60 seeds per gram |
| Brasica rapa pekinensis | Chinese Cabbage | 575 seeds per gram |
| Brassica oleracea botrytis | Cauliflower | 300 seeds per gram |
| Brassica oleracea capitata | Cabbage | 245 seeds per gram |
| Brassica oleracea gemmiphera | Brussels Sprouts | 270 seeds per gram |
| Brassica oleracea italica | Broccoli | 315 seeds per gram |
| Brassica oleracea sabellica | Kale | 300 seeds per gram |
| Brassica oleracea viridis | Collard | 270 seeds per gram |
| Brassica rapa niposinica | Mizuna | 300 seeds per gram |
| Bulbine frutescens | Burn Jelly Plant | 500 seeds per gram |
| Bulbine natalensis | Natal Bulbine | 2,500 seeds per gram |
| Bupleurum chinense (falcatum) | Bupleurum (Bei-chai-hu) | 1,000 seeds per gram |
| Cajanus cajan | Pigeon Pea | 10 seeds per gram |
| Calendula arvensis | Wild Calendula | 100 seeds per gram |
| Calendula officinalis | Common Calendula | 120 seeds per gram |
| Calluna vulgaris | Heather | 37,000 seeds per gram |
| Camassia quamash | Camas | 200 seeds per gram |
| Camelina sativa | Camelina | 600 seeds per gram |
| Campanula rapunculus | Rampion | 48,000 seeds per gram |
| Capparis spinosa | Caper | 100 seeds per gram |
| Capsella bursa-pastoris | Shepherd's Purse | 10,000 seeds per gram |
| Capsicum frutescens | Cayenne Pepper | 223 seeds per gram |
| Capsicum spp. | Peppers | 240 seeds per gram |
| Carnegia gigantea | Giant Saguaro Cactus | 700 seeds per gram |
| Carthamus tinctorius | Safflower | 24 seeds per gram |
| Carum carvi | Caraway | 370 seeds per gram |
| Cassia hebecarpa | Wild Senna | 50 seeds per gram |
| Caulophyllum thalictroides | Blue Cohosh | 3 seeds per gram |
| Ceanothus americanus | New Jersey Tea | 240 seeds per gram |
| Ceanothus velutinas | Snowbush Ceanothus | 260 seeds per gram |
| Centauria cyanus | Cornflower | 250 seeds per gram |
| Centaurium erythraea | Centaury | 9,000 seeds per gram |
| Centella (Hydrocotyl) asiatica | Gotu Kola | 300 seeds per gram |
| Centranthus ruber | Red Valerian | 400 seeds per gram |
| Ceratonia siliqua | Carob | 7 seeds per gram |
| Chamaelirium luteum | False Unicorn | 1,800 seeds per gram |
| Chamaemelum nobile | Roman Chamomile | 7,200 seeds per gram |
| Chelidonium majus | Greater Celandine | 1,600 seeds per gram |
| Chelone glabra | Turtlehead | 1,400 seeds per gram |
| Chenopodium ambrosioides | Epazote | 3,000 seeds per gram |
| Chenopodium quinoa | Quinoa | 350 seeds per gram |
| Chenopodium album | Lamb's Quarters | 1,350 seeds per gram |
| Cicer arietinum | Chickpea | 4 seeds per gram |
| Cichorium spp. | Chicory | 750 seeds per gram |
| Cimicifuga (Acteae) racemosa | Black Cohosh | 430 seeds per gram |
| Cineraria maritima | Dusty Miller | 2,000 seeds per gram |
| Cistus incanus tauricus | Tauric Rock Rose | 1,000 seeds per gram |
| Citrullus lanatus | Watermelon | 12 seeds per gram |
| Claytonia perfoliata | Miner's Lettuce | 2,000 seeds per gram |
| Clinopodium grandiflorum | Calamint | 3,300 seeds per gram |
| Clitoria ternatea | Butterfly Pea | 20 seeds per gram |
| Cnicus benedictus | Blessed Thistle | 36 seeds per gram |
| Cnidium monnieri | Snow Parsley (She-chuang-zi) | 1,500 seeds per gram |
| Codonopsis pilosula | Codonopsis (Dang-shen) | 2,500 seeds per gram |
| Coffea arabica | Coffee | 4 seeds per gram |
| Coix lacryma jobi | Job's Tears | 3 seeds per gram |
| Colchicum autumnale | Autumn Crocus | 170 seeds per gram |
| Coptis chinensis | Chinese Coptis (Huang-lian) | 500 seeds per gram |
| Coriandrum sativum | Cilantro/Coriander | 100 seeds per gram |
| Crambe maritima | Sea Kale | 13 seeds per gram |
| Crataegus laevigata | English Hawthorn | 22 seeds per gram |
| Crataegus monogyna | Wild Hawthorn | 8 seeds per gram |
| Crithmum maritimum | Sea Samphire | 300 seeds per gram |
| Cucumis sativus | Cucumber | 40 seeds per gram |
| Cucurbita maxima | Winter Squash | 7 seeds per gram |
| Cucurbita pepo | Pumpkin | 4 seeds per gram |
| Cucurbita pepo | Summer Squash | 10 seeds per gram |
| Cuminum cyminum | Cumin | 300 seeds per gram |
| Cyclanthera pedata | Caigua | 10 seeds per gram |
| Cymbopogon flexuosus | East Indian Lemongrass | 2,200 seeds per gram |
| Cynara cardunculus | Cardoon | 20 seeds per gram |
| Cynara scolymus | Artichoke | 20 seeds per gram |
| Datura inoxia | Moonflower | 60 seeds per gram |
| Datura stramonium | Jimson Weed | 150 seeds per gram |
| Daucus carota sativus | Garden Carrot | 630 seeds per gram |
| Daucus carota | Queen Anne's Lace | 1,000 seeds per gram |
| Dianthus superbus | Dianthus (Qu-mai) | 2,000 seeds per gram |
| Dictamnus purpureus | Burning Bush | 100 seeds per gram |
| Digitalis lanata | Greek Foxglove | 2,000 seeds per gram |
| Digitalis purpurea | Purple Foxglove | 12,000 seeds per gram |
| Dionaea muscipula | Venus Flytrap | 7,000 seeds per gram |
| Dioscorea villosa | Wild American Yam | 80 seeds per gram |
| Diospyros virginica | American Persimmon | 17 seeds per 10 grams |
| Diplotaxis tenuifolia | Wild Arugula | 3,395 seeds per gram |
| Dracocephalum moldavicum | Moldavian Balm | 450 seeds per gram |
| Drosera rotundifolia | Sundew | 19,500 seeds per gram |
| Ecballium elaterium | Squirting Cucumber | 66 seeds per gram |
| Echinacea angustifolia | Narrow-leaved Coneflower | 240 seeds per gram |
| Echinacea atrorubens | Topeka Purple Coneflower | 190 seeds per gram |
| Echinacea laevigata | Smooth Purple Coneflower | 250 seeds per gram |
| Echinacea pallida | Pale-purple Coneflower | 200 seeds per gram |
| Echinacea paradoxa | Yellow Coneflower | 160 seeds per gram |
| Echinacea purpurea | Purple Coneflower | 265 seeds per gram |
| Echinacea sanguinea | Sanguin Purple Coneflower | 880 seeds per gram |
| Echinacea simulata | Glade Purple Coneflower | 300 seeds per gram |
| Echinacea tennesseensis | Tennessee Purple Coneflower | 200 seeds per gram |
| Echium vulgare | Viper's Bugloss | 350 seeds per gram |
| Eclipta alba | Eclipta (Bhringaraj) | 4,000 seeds per gram |
| Eleutherococcus senticosus | Eleuthero (Ci-wu-jia) | 142 seeds per gram |
| Emblica officinalis | Amla | 44 seeds per gram |
| Ephedra equisetina | Bluestem Ephedra | 140 seeds per gram |
| Ephedra nevadensis/viridis | Mormon Tea | 40 seeds per gram |
| Ephedra sinica | Ma-huang | 100 seeds per gram |
| Epilobium angustifolium | Fireweed | 1,200 seeds per gram |
| Eriodictyon californicum | Yerba Santa | 3,000 seeds per gram |
| Eruca vesicaria sativa | Arugula | 1,500 seeds per gram |
| Eryngium maritimum | Sea Eryngo | 50 seeds per gram |
| Eschscholzia californica | California Poppy | 900 seeds per gram |
| Eupatorium (Eutrochium) purp. | Gravel Root | 2,200 seeds per gram |
| Eupatorium perfoliatum | Boneset | 9,000 seeds per gram |
| Euphorbia lathyris | Gopher Spurge | 23 seeds per gram |
| Euphrasia officinalis | Eyebright | 5,400 seeds per gram |
| Fagopyrum cymosum | Tall Buckwheat (Jin-qiao-mai) | 22 seeds per gram |
| Fagopyron esculentum | Buckwheat | 42 seeds per gram |
| Feoniculum vulgare | Fennel | 150 seeds per gram |
| Fragaria vesca | Woodland Strawberry | 3,000 seeds per gram |
| Frasera speciosa | Green Gentian | 600 seeds per gram |
| Galega officinalis | Goat's Rue | 140 seeds per gram |
| Galium odoratum | Sweet Woodruff | 180 seeds per gram |
| Galium verum | Our Lady's Bedstraw | 3,500 seeds per gram |
| Gaultheria procumbens | Wintergreen | 4,000 seeds per gram |
| Genista tinctoria | Dyer's Broom | 230 seeds per gram |
| Gentiana lutea | Yellow Gentian | 900 seeds per gram |
| Gentiana tibetica | Tibetan Gentian | 3,300 seeds per gram |
| Geranium maculatum | Wild Geranium | 188 seeds per gram |
| Geum urbanum | Avens | 400 seeds per gram |
| Gillenia trifoliate | Bowman's Root | 300 seeds per gram |
| Glechoma hederacea | Alehoof | 2,500 seeds per gram |
| Glycyrrhiza glabra | Licorice | 117 seeds per gram |
| Glycyrrhiza uralensis | Chinese Licorice | 130 seeds per gram |
| Gratiola officinalis | Hedge Hyssop | 40,000 seeds per gram |
| Grindelia spp. | Gumweed | 300 seeds per gram |
| Gynostemma pentaphyllum | Jiao-gu-lan | 200 seeds per gram |
| Heirochloe odorata | Sweetgrass | 1,700 seeds per gram |
| Helianthus annuus | Sunflower | 13 seeds per gram |
| Helichrysum italicum | Helichrusum | 14,000 seeds per gram |
| Helleborus niger | White Christmas Rose | 100 seeds per gram |
| Hibiscus sabdariffa | Roselle | 24 seeds per gram |
| Hippophaea rhamnoides | Sea Buckthorn | 90 seeds per gram |
| Hoodia gordonii | Hoodia | 170 seeds per gram |
| Hordium vulgare | Barley | 22 seeds per gram |
| Houttuynia cordata | Houttuynia/Fishwort | 17,000 seeds per gram |
| Humulus lupulus | Hops | 330 seeds per gram |
| Hydrastis canadensis | Goldenseal | 50 seeds per gram |
| Hyoscyamus niger | Henbane | 1,200 seeds per gram |
| Hypericum perforatum | Saint John's Wort | 8,000 seeds per gram |
| Hyssopus officinalis | Hyssop | 1,100 seeds per gram |
| Inula helenium | Elecampane | 600 seeds per gram |
| Iris versicolor | Blue Flag Iris | 80 seeds per gram |
| Isatis tinctoria | Dyer's Woad | 500 seeds per gram |
| Jacaranda mimosifolia | Jacaranda | 120 seeds per gram |
| Juniperus virginiana | Eastern Red Cedar | 91 seeds per gram |
| Lactuca sativa | Lettuce | 900 seeds per gram |
| Lactuca virosa | Wild Lettuce | 1,200 seeds per gram |
| Lagenaria siceraria | Gourd | 8 seeds per gram |
| Lamium purpureum | Red Henbit | 1,500 seeds per gram |
| Lavandula angustifolia | English lavender | 1,200 seeds per gram |
| Lavandula angustifolia | Hidcote Lavender | 1,400 seeds per gram |
| Lavandula angustifolia | Munstead Lavender | 1,000 seeds per gram |
| Lavandula latifolia | Broadleaf Lavender | 800 seeds per gram |
| Lavandula stoechas | French Lavender | 1,050 seeds per gram |
| Leonotis leonurus | Wilde Dagga | 300 seeds per gram |
| Leonotis nepetaefolia | Cordao | 400 seeds per gram |
| Leonurus artemisia | Chinese Motherwort | 930 seeds per gram |
| Leonurus cardiaca | Motherwort | 1,200 seeds per gram |
| Leuzea carthamoides | Maralroot | 52 seeds per gram |
| Levisticum officinale | Lovage | 350 seeds per gram |
| Lewisia rediviva | Bitterroot | 1,500 seeds per gram |
| Liatris spicata | Gayfeather | 280 seeds per gram |
| Ligusticum chuan-xiong | Chuan-xiong | 120 seeds per gram |
| Ligusticum porteri | Osha | 300 seeds per gram |
| Linum usitatissimum | Flax | 260 seeds per gram |
| Lobelia cardinalis | Cardinal Flower | 25,000 seeds per gram |
| Lobelia inflata | Official Lobelia | 18,000 seeds per gram |
| Lobelia siphilitica | Great Blue Lobelia | 30,000 seeds per gram |
| Lomatium dissectum | Lomatium | 60 seeds per gram |
| Lophophora williamsii | Peyote | 2,000 seeds per gram |
| Luffa cylindrical | Luffa | 12 seeds per gram |
| Lunaria biennis | Moonwort | 55 seeds per gram |
| Lycium barbarum | Goji | 1,000 seeds per gram |
| Lycopersicon esculentum | Tomato | 315 seeds per gram |
| Lycopus europaeus | Gypsywort/Bugleweed | 3,500 seeds per gram |
| Macleaya cordata | Plume Poppy | 1,100 seeds per gram |
| Maclura pomifera | Osage Orange | 25 seeds per gram |
| Mahonia aquifolium | Oregon Grape | 90 seeds per gram |
| Malva sylvestris | High Mallow | 120 seeds per gram |
| Mandragora autumnalis | Autumn Mandrake | 150 seeds per gram |
| Mandragora caulescens | Himalayan Mandrake | 500 seeds per gram |
| Mandragora officinarum | Mandrake | 36 seeds per gram |
| Mandragora turcomanica | Turkmenian Mandrake | 30 seeds per gram |
| Marrubium vulgare | White Horehound | 1,100 seeds per gram |
| Matricaria recutita | German Chamomile | 7,500 seeds per gram |
| Meconopsis betonicifolia | Himalayan Blue Poppy | 3,400 seeds per gram |
| Medicago sativa | Alfalfa | 400 seeds per gram |
| Melissa officinalis | Lemon Balm | 2,000 seeds per gram |
| Mentha longifolia | Arabian Mint | 13,000 seeds per gram |
| Mentha piperita | Peppermint | 12,500 seeds per gram |
| Mentha pulegium | Pennyroyal | 12,000 seeds per gram |
| Mentha requienii | Corsican Mint | 27,000 seeds per gram |
| Mentha spicata | Spearmint | 12,500 seeds per gram |
| Mesembryanthemum crystallinum | Common Iceplant | 6,000 seeds per gram |
| Meum athamanticum | Spignel | 120 seeds per gram |
| Mirabilis jalapa | 4 O'Clock | 10 seeds per gram |
| Mirabilis multiflora | Maravilla | 17 seeds per gram |
| Mitchella repens | Partridge Berry | 400 seeds per gram |
| Momordica charantia | Bitter Melon | 5 seeds per gram |
| Momordica grosvenorii | Monk Fruit (Luo-han-guo) | 8 seeds per gram |
| Monarda didyma | Red Bergamot | 1,500 seeds per gram |
| Monarda fistulosa | Sweetleaf Bergamot | 2,300 seeds per gram |
| Monarda punctata | Yellow Dotted Mint | 3,000 seeds per gram |
| Myrrhis odorata | Sweet Cicely/Garden Myrrh | 23 seeds per gram |
| Nasturtium officinale | Watercress | 2,000 seeds per gram |
| Nepeta cataria | Catnip | 2,000 seeds per gram |
| Nicotiana tabacum | Tobacco | 10,000 seeds per gram |
| Nigella sativa | Black Seed | 400 seeds per gram |
| Ocimum africanum | Temperate Tulsi | 1,580 seeds per gram |
| Ocimum basilicum | Mrihani Basil | 800 seeds per gram |
| Ocimum basilicum | Genovese Basil | 660 seeds per gram |
| Ocimum bailicum | Thai Basil | 1,100 seeds per gram |
| Ocimum minimum | Greek Basil | 750 seeds per gram |
| Ocimum tenuiflorum | Tropical Tulsi | 2,200 seeds per gram |
| Oenothera biennis | Evening primrose | 400 seeds per gram |
| Ononis spinosa | Restharrow | 200 seeds per gram |
| Origanum heracleoticum | Greek Oregano | 9,000 seeds per gram |
| Origanum majorana | Marjoram | 5,000 seeds per gram |
| Origanum syriacum | Zaatar | 4,070 seeds per gram |
| Origanum vulgare | Common Oregano | 9,500 seeds per gram |
| Paeonia lactiflora | Garden Peony | 9 seeds per gram |
| Paeonia obovata | Chinese Red Peony | 9 seeds per gram |
| Panax ginseng | Asian Ginseng (Ren-shen) | 24 seeds per gram |
| Panax quinquefolius | American Ginseng | 14 seeds per gram |
| Papaver rhoeas | Flanders Poppy | 10,000 seeds per gram |
| Papaver somniferum | Poppy | 2,000 seeds per gram |
| Parthenium integrifolium | Wild Quinine | 250 seeds per gram |
| Passiflora incarnata | Passionflower | 30 seeds per gram |
| Pelargonium capitatum | Scented Geranium | 330 seeds per gram |
| Pelargonium sidoides | Umcka Geranium | 250 seeds per gram |
| Perilla frutscens | Shiso | 450 seeds per gram |
| Petasites spp. | Butterbur | 3,000 seeds per gram |
| Petroselinum crispum | Parsley | 500 seeds per gram |
| Peucedanum ostruthium | Masterwort | 700 seeds per gram |
| Phaseolus vulgaris | Bean | 6 seeds per gram |
| Physalis alkekengi | Chinese Lantern | 600 seeds per gram |
| Physalis ixocarpa | Tomatillo | 265 seeds per gram |
| Phytolacca acinosa | Himalayan Poke | 95 seeds per gram |
| Phytolacca americana | American Poke | 90 seeds per gram |
| Pimpinella anisum | Anise | 400 seeds per gram |
| Pisum sativum | Peas | 6 seeds per gram |
| Plantago coronopus | Herba Stella | 5,000 seeds per gram |
| Plantago lanceolata | Narrow-leaved Plantain | 500 seeds per gram |
| Plantago major | Broadleaf Plantain | 2,000 seeds per gram |
| Plantago psyllium | Psyllium | 1,000 seeds per gram |
| Platycodon grandiflorus | Balloonflower (Jie-jeng) | 1,000 seeds per gram |
| Podophyllum hexandrum | Himalayan Mayapple | 50 seeds per gram |
| Podophyllum peltatum | American Mayapple | 35 seeds per gram |
| Polygonatum spp. | Solomon's Seal | 38 seeds per gram |
| Polygonum (Persicaria) orientale | Kiss-Me-Over-the-Garden-Gate | 11 seeds per gram |
| Polygonum bistorta | Bistort | 160 seeds per gram |
| Polygonum multiflorum | He-shou-wu | 200 seeds per gram |
| Polymnia uvedalia | Bearsfoot | 5 seeds per gram |
| Porophyllum ruderale | Quilquina (Papalo) | 500 seeds per gram |
| Portulacca oleracea | Purslane | 2,600 seeds per gram |
| Potentilla tormentilla | Cinquefoil | 800 seeds per gram |
| Primula veris | Cowslip | 1,200 seeds per gram |
| Prunella vulgaris | Self Heal | 1,400 seeds per gram |
| Prunus virginiana | Wild Virginia Chokecherry | 8 seeds per gram |
| Pulmonaria officinalis | Lungwort | 100 seeds per gram |
| Pycnanthemum virginianun | Mountain Mint | 7,000 seeds per gram |
| Raphanus sativus longipinnatus | Daikon Radish | 172 seeds per gram |
| Raphanus sativus | Radish | 115 seeds per gram |
| Rehmannia glutinosa | Rehmannia (Sheng-di-huang) | 15,000 seeds per gram |
| Rheum officinale | Chinese Rhubarb | 75 seeds per gram |
| Rheum officinarum | Official Rhubarb | 135 seeds per gram |
| Rheum palmatum | Turkey Rhubarb | 60 seeds per gram |
| Rheum rhabarbarum | Garden Rhubarb | 80 seeds per gram |
| Rhodiola rosea | Rhodiola/Rose Root | 7,500 seeds per gram |
| Ricinus communis | Castor | 2 seeds per gram |
| Rosmarinus officinalis | Rosemary | 900 seeds per gram |
| Rubia tinctorum | Madder | 60 seeds per gram |
| Rumex acetosa | Garden Sorrel | 1,000 seeds per gram |
| Rumex acetosella | Sheep Sorrel | 900 seeds per gram |
| Rumex crispus | Yellow Dock | 340 seeds per gram |
| Rumex scutatus | French Sorrel | 1,100 seeds per gram |
| Ruta graveolens | Rue | 500 seeds per gram |
| Salvia apiana | White Sage | 600 seeds per gram |
| Salvia columbariae | Desert Golden Chia | 1,200 seeds per gram |
| Salvia hispanica | Mexican Chia | 1,000 seeds per gram |
| Salvia miltiorrhiza | Chinese Red Sage (Dan-shen) | 540 seeds per gram |
| Salvia officinalis | Garden Sage | 95 seeds per gram |
| Salvia przewalskii | Gansu Sage (Dan-shen-gansu) | 160 seeds per gram |
| Salvia sclarea | Clary Sage | 200 seeds per gram |
| Salvia spathacea | Pitcher Sage | 40 seeds per gram |
| Sanguinaria canadensis | Bloodroot | 70 seeds per gram |
| Sanicula europaeae | Sanicle | 250 seeds per gram |
| Santolina chamaecyparissus | Santolina | 3,000 seeds per gram |
| Saponaria officinalis | Soapwort | 600 seeds per gram |
| Saposhnikovia divaricata | Siler (Fang-feng) | 250 seeds per gram |
| Satureja hortensis | Summer Savory | 2,000 seeds per gram |
| Satureja montana | Winter Savory | 2,100 seeds per gram |
| Saussurea costus | Costus (Mu-xiang) | 40 seeds per gram |
| Schisandra chinensis | Schisandra (Wu-wei-zi) | 50 seeds per gram |
| Scrophularia nodosa | Figwort | 11,000 seeds per gram |
| Scutellaria baicalensis | Baical Skullcap | 560 seeds per gram |
| Scutellaria lateriflora | Official Skullcap | 2,500 seeds per gram |
| Secale cereal | Winter Rye | 46 seeds per gram |
| Sedum reflexum | Stone Orpine | 1,100 seeds per gram |
| Selenecereus grandiflorus | Cactus Grandiflorus | 600 seeds per gram |
| Sempervivum tectorum | Hen and Chicks | 15,000 seeds per gram |
| Sideritis syriaca | South Greek Mountain Tea | 600 seeds per gram |
| Siegesbeckia pubescens | St Paul's Wort (Xi-xiang-cao) | 450 seeds per gram |
| Silene vulgaris | Maiden's Tears | 1,450 seeds per gram |
| Silphium laciniatum | Compass Plant | 23 seeds per gram |
| Silybum marianum | Milk Thistle | 50 seeds per gram |
| Simmondsia chinensis | Jojoba | 16 seeds per 10 grams |
| Sinapis alba | White Mustard | 170 seeds per gram |
| Smyrnium olusatrum | Alexanders | 25 seeds per gram |
| Solanum dulcamara | Bittersweet Nightshade | 700 seeds per gram |
| Solidago canadensis | Goldenrod | 2.000 seeds per gram |
| Solidago virgaurea | European Goldenrod | 2,000 seeds per gram |
| Sphaeralcea coccinea | Scarlet Globe Mallow | 400 seeds per gram |
| Spinacea oleracea | Spinach | 80 seeds per gram |
| Spireae (Filipendula) ulmaria | Meadowsweet | 1,500 seeds per gram |
| Stachys byzantine | Lamb's Ears | 500 seeds per gram |
| Stachys officinalis | Wood Betony | 1,000 seeds per gram |
| Stellaria media | Chickweed | 1,100 seeds per gram |
| Stevia rebaudiana | Stevia | 2,500 seeds per gram |
| Stillingia sylvatica | Stillingia/Queen's Delight | 40 seeds per gram |
| Symphytum officinalis | True Comfrey | 90 seeds per gram |
| Syphomandra betacea | Tree Tomato | 250 seeds per gram |
| Tagates erecta | African Marigold | 460 seeds per gram |
| Tagates lucida | Mexican Tarragon | 1,200 seeds per gram |
| Tagates minuta | Mexican Marigold | 1,300 seeds per gram |
| Talinum paniculatum | Fame Flower ( Tu-ren-shen) | 3,000 seeds per gram |
| Tamarindus indicus | Tamarind (Mkwaju) | 7 seeds per 10 grams |
| Tanacetum balsamita | Costmary | 3,500 seeds per gram |
| Tanacetum parthenium | Feverfew | 7,000 seeds per gram |
| Tanacetum vulgare | Tansy | 8,000 seeds per gram |
| Taraxacum officinale | Dandelion | 2,000 seeds per gram |
| Tetragonia tetragonioides | New Zealand Spinach | 20 seeds per gram |
| Thelesperma spp. | Navajo Tea | 350 seeds per gram |
| Thymus mastichina | Mastic Thyme | 3,500 seeds per gram |
| Thymus pulegioides | Greater Wild Thyme | 6,000 seeds per gram |
| Thymus serphyllum | Creeping Thyme | 7,000 seeds per gram |
| Thymus vulgaris | Common Thyme | 3,800 seeds per gram |
| Tradescantia occidentalis | Western Spiderwort | 250 seeds per gram |
| Trichosanthes kirilowii | Snake Gourd | 5 seeds per gram |
| Triconella foenum-graecum | Fenugreek | 60 seeds per gram |
| Trifolium incarnatum | Crimson Clover | 265 seeds per gram |
| Trifolium pratense | Red Clover | 1,400 seeds per gram |
| Trillium spp. | Trillium | 180 seeds per gram |
| Tropaeolum majus | Nasturium | 7 seeds per gram |
| Tussilago farfara | Coltsfoot | 4,000 seeds per gram |
| Ulmus rubra | Slippery Elm | 105 seeds per gram |
| Urtica dioica | Stinging Nettles | 7,000 seeds per gram |
| Vaccinium myrtillus | Bilberry | 4,000 seeds per gram |
| Valeriana officinalis | Valerian | 1,200 seeds per gram |
| Valerianella locusta | Mache | 450 seeds per gram |
| Veratrum californicum | Corn Lily | 190 seeds per gram |
| Verbascum olympicum | Greek Mullein | 8,000 seeds per gram |
| Verbascum thapsus | Common Mullein | 1.300 seeds per gram |
| Verbena hastata | Blue Vervain | 3,500 seeds per gram |
| Verbena officinalis | European Vervain | 2,800 seeds per gram |
| Veronica officinalis | Speedwell | 7,500 seeds per gram |
| Veronicastrum virginicum | Culver's Root | 15,000 seeds per gram |
| Vicia faba | Fava Bean (Windsor) | 4 seeds per 10 grams |
| Viola odorata | Sweet Violet | 300 seeds per gram |
| Viola tricolor | Heartsease Violet | 1,200 seeds per gram |
| Vitex agnus castus | Chaste Tree | 25 seeds per gram |
| Vitex negundo | Nirgundi | 160 seeds per gram |
| Wasabia japonica | Wasabi | 176 seeds per gram |
| Withania somnifera | Ashwagandha | 700 seeds per gram |
| Wyethia amplexicaulis | Mule's Ears | 50 seeds per gram |
| Xerophyllum tenax | Bear Grass | 500 seeds per gram |
| Yucca brevifolia | Joshua Tree | 8 seeds per gram |
| Yucca filamentosa | Common Yucca | 80 seeds per gram |
| Yucca glauca | Soapweed Yucca | 40 seeds per gram |
| Zanthoxylum bungeanum | Szechuan Pepper | 58 seeds per gram |
| Zea mays | Corn | 5 seeds per gram |