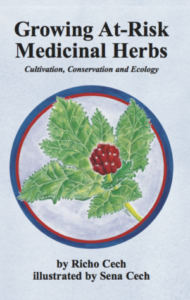 Writing for "Mother Earth News" has always been attractive to me. It is the quintessential do-it-yourself homesteading rag, read by 390,000 people, which is a lot. My most recent article "Medicinal Herbs for Difficult Growing Conditions" was published in the April/May 2017 issue. I wanted to inspire fellow gardeners to make good use of challenging environments such as shade, swamp or dryland.
Turns out, finding appropriate species is the name of the game. Of course, the editors tend to seriously pare down my longer stories—they are looking for a big bang from the allotted 1,500 words! I've altered my style a bit to make it more concise. I still get to say things like "I threw chicken bones to the alligators and mused about gardening in very wet places," as long as I also say things like "Look to nature for clues on how to work with desert environs."
The text covers a lot of ground but only scratches the surface. The photos and the herb lists drive the content deeper. I made sure to recommend a great number of plants that are covered in the new second edition of "Growing At-Risk Medicinal Herbs." In the book, nobody told me to stop with the stories!