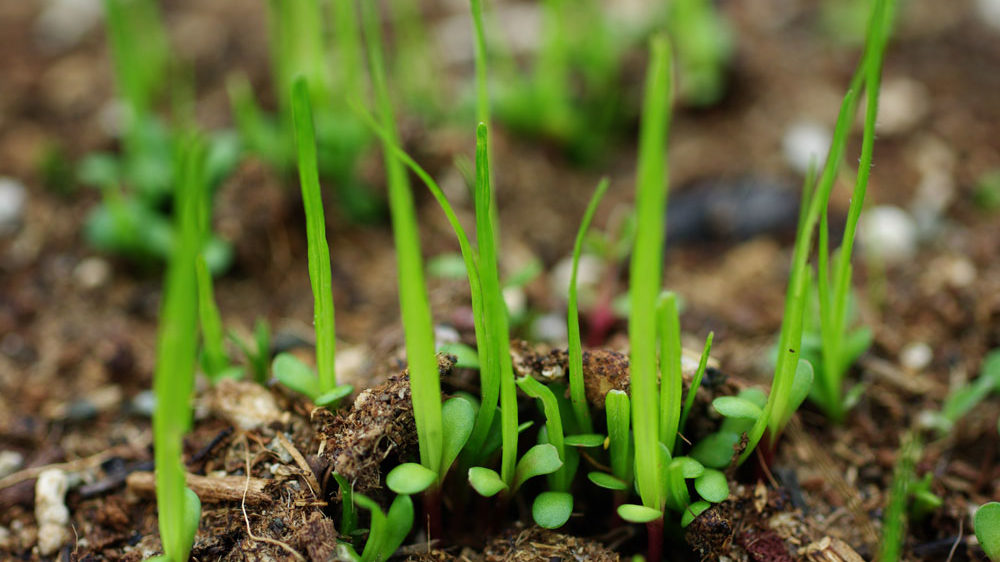 The higher you are on the pyramid, up there collecting your volunteers, the better the view!

— Richo Cech
The Wasabi (Wasabia japonica) patch was long overdue for a bit of upkeep and rejuvenation. Plants planted in midwinter were developing slowly beneath a cover of grasses and forbs. My extended fingers pushed in toward the crown of the plant, just subsurface, then returned toward me laden with weeds. Tossing the weeds aside, I went in again and cultivated all around the plant with my fingers, fluffing the soil in readiness for a planned application of dilute fish emulsion. But what was this? A set of rounded cotyledon leaves, smooth and ribbed, raised up on twin stalks in a V like a peace sign before my very nose. V for volunteer, volunteer Wasabi! Freshly attuned to the fact that there might be reprod under the layer of weeds, I went more cautiously, and as I cleaned out around the plants, found another 4 seedlings. Once clear of weeds, they looked, if anything, a bit happier than the larger plants!
Volunteer seedlings are marvelous. My little Wasabis grew from seed that had been dropped 12 months prior. The development of new plants was done without any assistance from me, but it was totally to my benefit, and that of the plant. Wasabi are precious, and seed-grown individuals are inherently better than those grown from crown division. I felt blessed and happy!
With future generations of medicinal plants in mind, I do have a habit of "enhancing" the plant's natural tendency toward self-seeding. When cleaning certain desirable species such as Osha, Lomatium, Skullcap or Echinacea, I tend to roam around a bit, and sprinkle chaffy seed in likely spots: woody loam for the Osha; a gravelly edge for the Lomatium; moist shade for the Skullcap; open, disturbed ground for the Echinacea. If I sprinkle seeds around existing plants of the same sort, then I can assume that the microniche is reasonably suitable, since it is already supporting my chosen plant. Then when the seeds eventually emerge, the larger plants serve as an identification marker!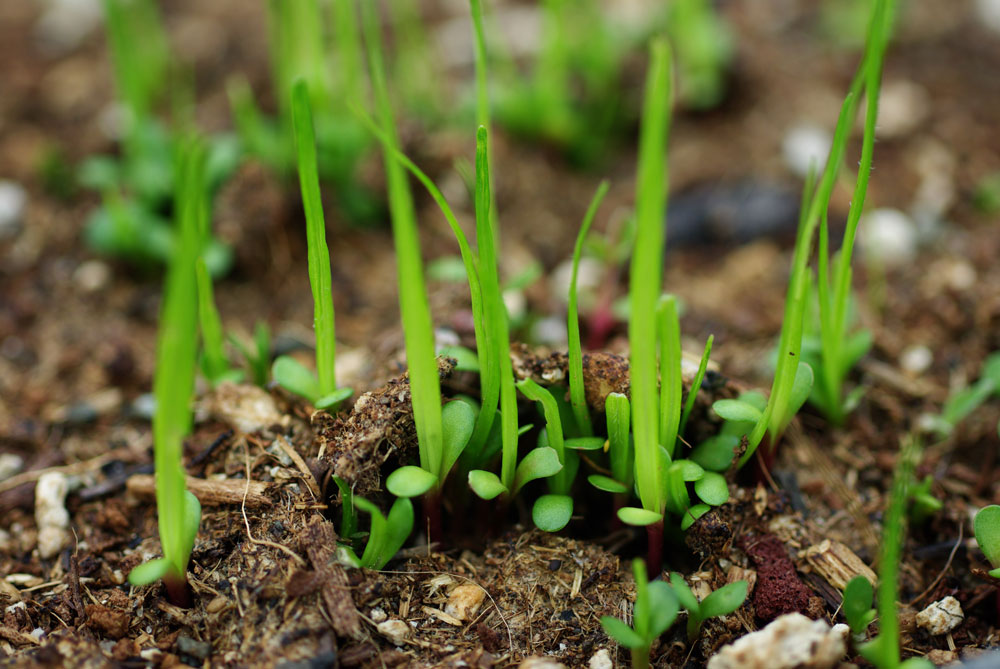 Tidy gardeners wishing to try this technique will want to prepare a suitable seed bed (even a one-foot diameter scalp can serve). The spot is staked and labeled, then planted with scattered seeds, worked in with the fingers and tamped. Planting under a sand mulch is another viable option. Many seeds contain germination-inhibiting substances that must be leached prior to germination. Sowing the seeds when the plant normally matures and self-disseminates is a method that often succeeds when more domesticated approaches yield nothing. All this requires a stock of mother plants, keen observation, patience through the seasons and follow-through to save the progeny. The advantages are attractive.
I garden with an eye out for volunteers. Comfrey seedlings, for obvious reasons, are scooped up and transplanted back to the comfrey patch. Seedlings of valuable perennials like Belladonna, Betony or Blue Vervain may well be preserved, transplanted out to spacing, or potted up for plant sales. Seedlings started in nature tend to transplant without shock and are generally superior to greenhouse-grown seedlings. Nature has already selected them for vigor. In fact, especially in the late winter and early spring, I feel motivated to go hunting for seedlings. There I am, pushing aside The Echinacea simulata to see if any progeny have sprouted. I know the fat, rounded shape of their little buttocks. Aha! There's one! For example, a patch of the rare and highly desired Alkanna tinctoria was seemingly extirpated in my garden, the casualty of an overwet winter. However, I was able to resuscitate the population by checking the growing areas, still festooned with the dead stalks of the mother plants, and find a few likely seedlings. They were cleared around, staked, given a dressing of sand to improve drainage, and now. . . are in flower.
There is a futziness pyramid that represents the science and romance of starting plants. The least futzy tip of the pyramid is to collect volunteers. Next level is direct-seeding outdoors in season. Below that is starting in a greenhouse in flats. As we progress down the pyramid, more human attention, materials and money are required to yield the same or inferior results. Next level down we have lights in the greenhouse, and below that lights in the propagation room. Even futzier than that are the many tricks people employ, with varying levels of actual success, including blotter paper, germination chambers, speedling flats, hydroponic systems, etc. The higher you are on the pyramid, up there collecting your volunteers, the better the view!